From The Commentator (April 30, 2012). - TP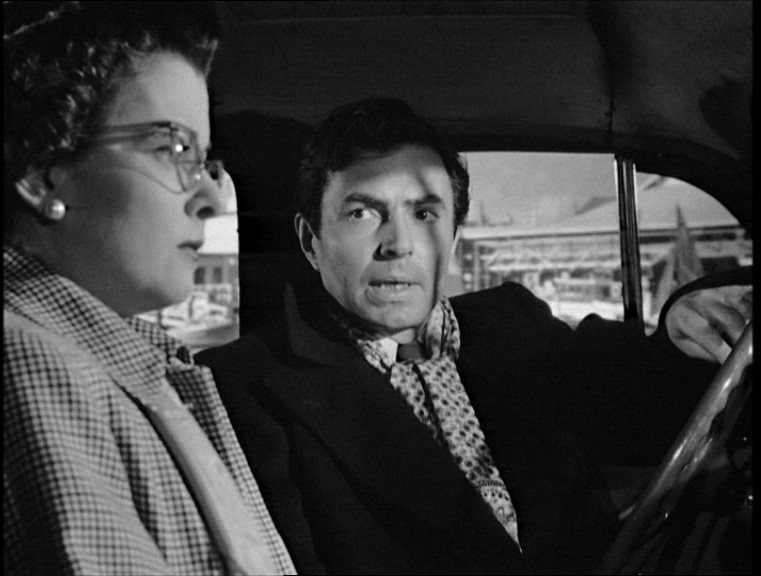 THE RECKLESS MOMENT (1949)
Rating **** Masterpiece
Directed by Max Ophüls
Written by Mel Dinelli, Robert E. Kent, Henry Garson, Robert Soderberg, Elisabeth Sanxay
With James Mason, Joan Bennett, Geraldine Brooks, Shepperd Strudwick, Henry O'Neil, David Bair, Roy Roberts
MIAMI VICE (2006)
Rating **** Masterpiece
Directed by Michael Mann
Written by Michael Mann
With Colin Farrell, Jamie Foxx, Gong Li, Luis Tosar, Naomie Harris, John Ortiz, Elizabeth Rodriguez, Justin Theroux, Ciarán Hinds, Barry Shabaka Henley, Domenick Lombardozzi, Isaach De Bankolé, John Hawkes, Tom Towles, Eddie Marsan


Sometimes great films go unappreciated in their initial releases. Critics give them poor reviews and audiences don't go see them. The duty of insightful analysis and appreciation falls to future generations of audiences and critics. For instance, it wasn't until the Cahiers du Cinéma generation that great filmmakers like Alfred Hitchcock and Howard Hawks were thought of as such. In this essay, I would like to talk about two star-studded Hollywood movies - one from 1949 and one from 2006 - that were not received well initially, but should be considered masterpieces.
In 1941, director Max Ophüls arrived in the United States after having fled Nazi-occupied France (and after fleeing Germany in 1931 for fear of the ascendant Nazi party). Ophüls was unable to find work in Hollywood - despite having already directed classics like Leibelei (1933) and La Signora di Tutti (1934) - until fan and fellow director Preston Sturges hired him to direct a film for Howard Hughes called Vendetta (1950). Principal photography began in 1946, but after only one week of shooting, Hughes complained to Sturges about the amount of time Ophüls was taking and the way he handled the film's lead and Hughes' protégée, Faith Domergue. Hughes proceeded to fire Ophüls.
Ophüls went on to complete four features in the United States before returning to Europe - The Exile (1947), Letter from an Unknown Woman (1948), Caught (1949), and The Reckless Moment (1949) - all of which were poorly received by American critics. Of the film which we will cover in the present essay, The Reckless Moment, New York Times critic Bosley Crowther wrote, "Although it is rather well staged, with incredible location settings in Balboa and Los Angeles, it is a feeble and listless drama with a shamelessly callous attitude. The heroine gets away with folly, but we don't think this picture will."
In The Reckless Moment Ophüls brings the style and ideas of film noir to the household. The phenomenal Joan Bennett plays against type as a California housewife, Lucia Harper, who attempts to cover up what she believes to be her daughter's accidental murder of an unwanted suitor. A criminal, Martin Donnelly, played by the equally fantastic James Mason blackmails Joan Bennett by threatening to take correspondence between her daughter and the dead suitor to the police. As the film progresses, Lucia and Martin begin to fall in love, but they are both prevented from pursuing it.
Martin cannot act on his love because of his ties to organized crime, specifically his associate, Nagel. Lucia also cannot act because she is married and has two children. This brings us to the main idea of the film: Lucia's family is as much a prison as Martin's criminal life. Ophüls brilliantly conveys the idea visually by shooting the interior of Lucia's house in the style of a film noir. Shadows abound, especially those from the staircase of Lucia's house, which of course resemble the bars from a prison cell. Ophüls' camera treats Lucia's son, daughter, and father as dangers roaming the household that seem to consume all of her time and may at any point discover her deception. She cannnot rely on anyone in her family, including her husband who she continues to lie to throughout the film.
After Martin has sacrificed his life to end Nagel's blackmail of Lucia the regular family dynamic is restored. In most Hollywood pictures this would be a positive ending. However, Ophüls shoots the final scene, a phone call between Lucia and her husband with her surrounded by her family, through the bars of her staircase. As the great critic Dave Kehr once wrote, "it's one of [Ophüls'] most perverse stories of doomed love."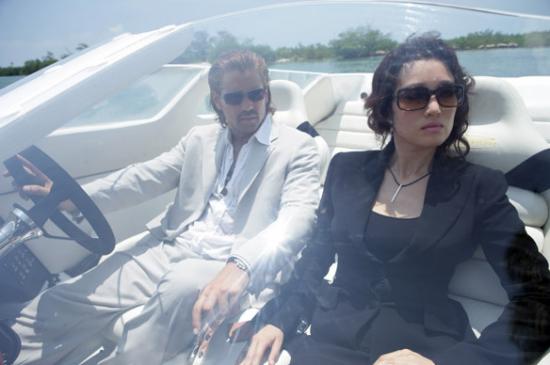 A doomed love affair plays a central role in Michael Mann's Miami Vice (2006). Rex Reed, film critic for New York Observer, wrote, "Miami Vice is crummy, pointless and brain dead. No revelation there. But I didn't expect it to be so boring." American audiences were also not very receptive to the film. It grossed $63.5 million in the United States, a disappointing number considering that the film was based on an established property (Miami Vice the television show) and had a budget of $135 million.
Much of the criticism of Miami Vice was centered on its action movie genre conventions and purportedly underdeveloped narrative. However, these criticisms fail to take into account one of the foundational ideas of cinema, which legendary director Raúl Ruiz stated as "In cinema… it is the type of image produced that determines the narrative, not the reverse." The narrative of Miami Vice seems like it has been stripped down to the mere essentials. It relies on its amazing images to convey themes and story.
Most of the images in Miami Vice were created using a high resolution digital camera. The choice of a digital camera rather than a film format is significant because the images that they produce are radically different. Michael Mann, a master of the digital format, understands that digital images always appear much more of the present. While film images often seem eternal, digital images better capture the fleeting moment. For instance, when Rico Tubbs (Jamie Foxx) grabs the hand of his girlfriend, Trudy Joplin (Naomie Harris), after a Neo-Nazi gang has critically injured her there is a brief freeze frame. However, the digital format of the image makes it seem like their relationship will remain fleeting (despite their best efforts) because of their chosen careers, undercover agents.
Digital images also have a wonderful abstracting quality. The effects of this quality are compounded by Michael Mann's striking mise-en-scene, particularly that of the Miami sky at night. The on-location filming for Miami Vice took place during hurricane season. The aggressive skies create a dark and ominous atmosphere that undercuts the pastel-colored glory of the television series and documents the changes Miami has undergone in the intervening years.
Mann also relies on his actors' body movements to convey character. Much like the characters in Robert Bresson's films, the characters in Miami Vice are defined by their actions and jobs. Everything you need to know about them is encapsulated in movements and physical behavior. Sonny Corckett's emotional state at the end of the movie is conveyed by the way Colin Farrell hunches his back while returning to his partner, Tubbs, after having decided to not elope with the woman he fell in love with while undercover.
Michael Mann's Miami Vice more closely resembles an abstract avant-garde film than a big-budget Hollywood action film. This is due to the vision of the incredible Michael Mann. To quote Chicago Reader film critic Ben Sachs, "an artist with an acute sense of the fleeting moment, the unnatural pace of time in contemporary life, and myriad variations of artificial light (he's likened himself to a photorealist painter), Mann is simply our greatest living image-maker."
The Reckless Moment is yet unavailable on Region 1 DVD. If you have an All Region DVD Player, a region 2 DVD is available on Amazon. If you don't, there are other, more legally questionable means of acquiring it. Miami Vice is available on Blu-Ray and DVD form Netflix and Instant Video from Amazon.